Our Methodology
Read below about the features we have curated to achieve our goals for our homes and yours.
We are a small homebuilder in Louisville, Colorado, specializing in merging the modernity and cost-effectiveness of factory built modular construction with warm hearted custom design. We only build healthy, environmentally responsible, energy-efficient homes, meeting, at minimum, the 2021 IECC energy code with additional measures. We use the most advanced building practices to deliver healthy indoor air, mold control, smoke control, fire resistance, and prevention of deterioration. These homes are simply better.
Fire resistance
Metal roofing is fire resistive as well as hail resistant (vs. asphalt shingles which are petroleum based and have the potential to burn, and are much more prone to hail damage as well).
Hardie siding is a cement based siding and is fire resistive (vs. wood or composite wood siding that has a low combustion point).
Insulation: We will be trying to utilize mineral wool batt insulation wherever possible, depending on the accommodations from the house factory, and additionally, mineral wool rigid sheathing when insulated sheathing is needed for energy efficiency. This is our favored insulation material. Mineral wool batt insulation is fireproof, vermin proof, rot proof and harbors zero mold growth. Because mineral wool is so dense it prevents oxygen from getting to the wood studs helping to further protect from fire. Fiberglass insulation will melt at about 1,000 degrees whereas mineral wool will melt at about 2,150 degrees and provides much better sound proofing. Fiberglass has lots of air space which could potentially allow wood framing to burn more quickly.
Smoke resistance
Eliminating a vented roof reduces entry points for embers to get inside your home to start a fire. It also reduces wildfire smoke and ash damage.
Eliminating the furnace and its flue reduces entry points for embers to get inside your home to start a fire. Also reduces wildfire smoke and ash damage.
Tightly sealed envelope to 2021 IECC standards keeps the heat and air conditioning inside and also prevents smoke infiltration.
All exterior penetrations such as electrical outlets and plumbing lines are foam sealed inside from the outside in (i.e. after drywall install, but prior to insulation). This is the tightest seal to eliminate air and smoke infiltration.
Good quality windows are more energy efficient and prevent smoke infiltration. (All windows deteriorate over time and windows will need replacement every 20 years to maintain good air seal. We don't encourage overspending on windows, with the consideration that they will need replacement periodically.)
Indoor air quality and comfort
High quality, low toxicity materials
No gas combustion whatsoever
Fully exhausted kitchen vent hood, high powered (over 400 CFM, typically 1200 CFM) with outside makeup air system. This is the only way to ensure your bedrooms don't smell like dinner and your lungs are healthy. We're going farther to incorporate a makeup air system so the exhaust does not suck air through your carefully sealed walls. Whenever possible we also thoughtfully place the stove and exhaust directly on an exterior wall and include operable windows nearby.
Smoke control per above
Mold control wall detailing: Mineral wool batt harbors zero mold and is moisture resistant.  Our wall and roof materials are vapor permeable to allow for drying and to prevent moisture condensation from getting trapped.  Siding is installed as a rainscreen and windows are fully flashed to allow water to drain away.
Fully cleanable ductwork (not flex-duct and not the new small plastic tubes). Our ductwork is typically built up out of a rigid insulated board.
Multiple ways to use your house for comfort:

Thoughtfully placed operable windows to take advantage of breezes, hear the birds chirping, and enjoy nature  
Floor plans that connect to outdoor living
Design with the sun: south facing windows, shading against harsh western sun, limiting north windows to reduce winter cold radiation
Additional fresh air ventilation through an ERV (Energy Recovery Ventilator) for those times you have to shut all windows.
Energy, climate change, environment
Insulation and design to 2021 IECC energy saving standards
Design with the sun gives you free energy savings.  We are custom designing every house to fit the site.
Standing seam metal roof is the best for solar panels.  Panels clamp onto the seams instead of requiring multiple roof penetrations.  House is solar ready with capacity on the main electrical panel, a wiring sleeve to the roof, and car chargers in the garage. 
Standing seam metal roofs accommodate rainwater catchment for vegetable gardens. (Asphalt roofing will create toxic water for your garden.)
Standing seam metal roofs, unpainted, are light colored and reflective. Light colored, reflective roofs reduce cooling loads in the summer and reduce the heat island effect (where dark surfaces create a hotter microclimate in a neighborhood or city).
Our ductwork is typically built up out of a rigid insulated board that reduces energy loss and delivers comfortable air more quickly and efficiently.
Thoughtful material choices that reduce chemical waste and carbon footprint.  
Factory construction reduces material waste while yielding higher quality construction and better working conditions. Framing materials are cut consistently and more accurately making for tighter sealing and insulation. Factory waste is about 400 lbs per house vs site built which is about 8,000 lbs.
Air-source heat pump technology has matured in the past 3 years and is highly efficient and affordable for cooling and heating homes in our climate zone.  This is the best bang for your buck for heating and cooling your house hyper-efficiently.
Heat pump water heater technology has matured in the past 2 years and is the most efficient way to heat water using electricity (which is preferably sourced from solar).
Community, economics and inter-generational wealth
Houses designed to fit the site and the neighborhood, with friendly front porches and garages taking a back seat.
On the exterior, highest quality, long-lasting, beautifully detailed: standing seam metal roof and Hardie siding. Hardie siding comes in a variety of architectural profiles and colors.
On the interior, highest quality where it matters: custom kitchen cabinetry is standard. Easy upgrades include solid core stained wood doors, hardwood and cork floors, quartz countertops in kitchen and baths. (Base house includes solid core painted doors, carpet and wood-look durable laminate flooring, laminate countertops.)
Smart design and process that achieves attainable prices: factory-built modules, livable daylit basements that include primary spaces, simple footprints, designing with the sun to reduce insulation cost while improving comfort.
State of the art detailing to prevent moisture-driven deterioration and achieve a long-lasting house. At the factory, framing materials are cut consistently and more accurately, which creates a more solid house that lasts longer with less settling and deterioration. We want you to be able to pass it down through generations and build family wealth, while also protecting the environment for future generations.
Hardie siding examples: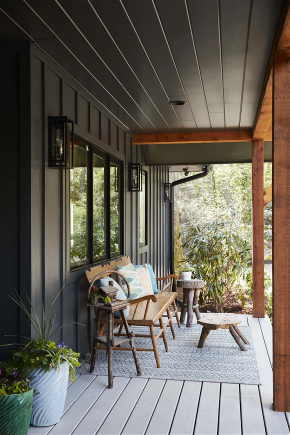 ---
Standing seam metal roof examples: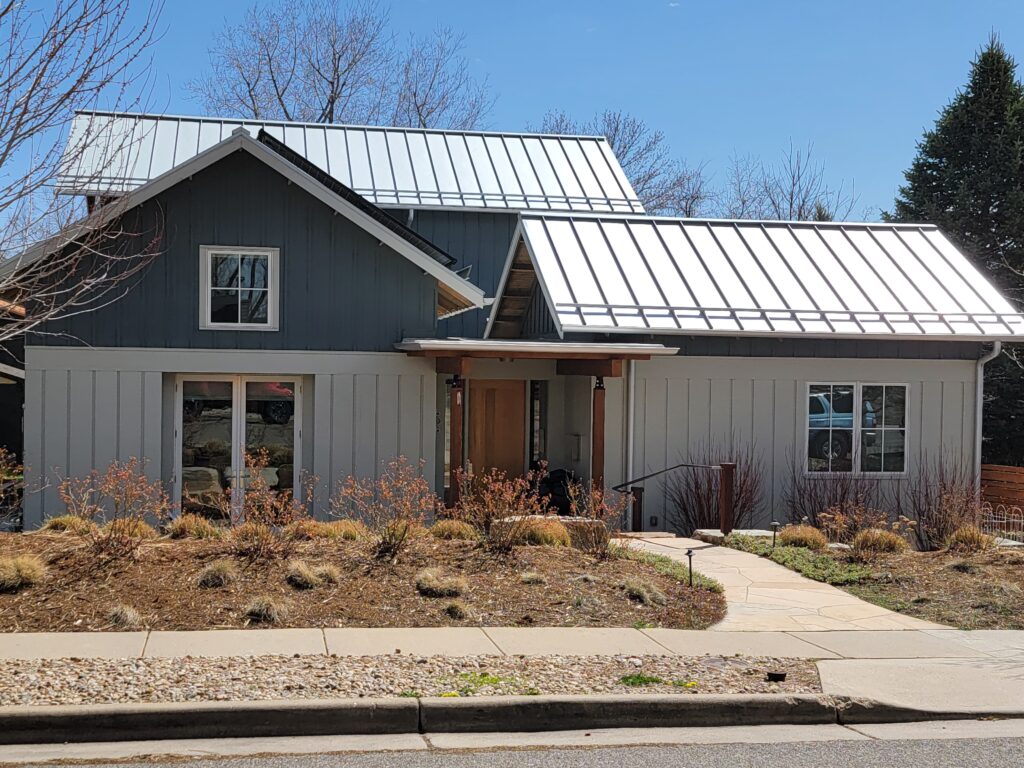 ---
Actual photos from our house factories: