PRICE
The cost to build a house can contain a lot of variables that are hard to compare, so let's be specific. We're offering a semi-custom 3100 sf plan with all the top quality features described below for under $850,000, including engineering and permit fees (but not including landscaping or solar panels, also not including special foundation conditions such as piers). That's $280/sf.
We have several core floor plans ranging from 2400-3300 sf, and we'll work with you to choose the one that fits best for your lot size and sun orientation. Depending on the plan, your level of customization, and special conditions, costs can range from $270/sf-$320/sf.
SPEED
Our construction timelines are under 4 months. See why below.
Depending on your choice of customization, our design, engineering and permitting process leading up to construction can range from 2-5 months.
I'm interested!
Factory Built Hybrid
The cores of our homes consist of a stack of 4 factory-built modules, each about 16 feet wide, almost fully completed off-site, including drywall and fully finished kitchens and baths, eliminating the #1 source of homebuilding schedule delays. The quality of construction is higher than what can be achieved in a site-built structure. Framing is precisely cut using robotic machines. Workers work in a comfortable, safe environment. The modules are over-engineered with extra bracing to ensure stable craning into place, resulting in a more stable long-lasting structure for you. Because the cores are delivered with exterior sheathing and roof, there is never a time when your interior is exposed to weather during construction. Learn more about factory-built modular construction here.
We use a hybrid approach with our factory-built cores, which we think results in the best of both worlds. We site-build front porches, garages, and other elements to fit your unique site. We also add exterior finishes on site for a perfect seal, and hardwood flooring is artisanally installed on site.
The kitchen photo you see here is from one of our factories.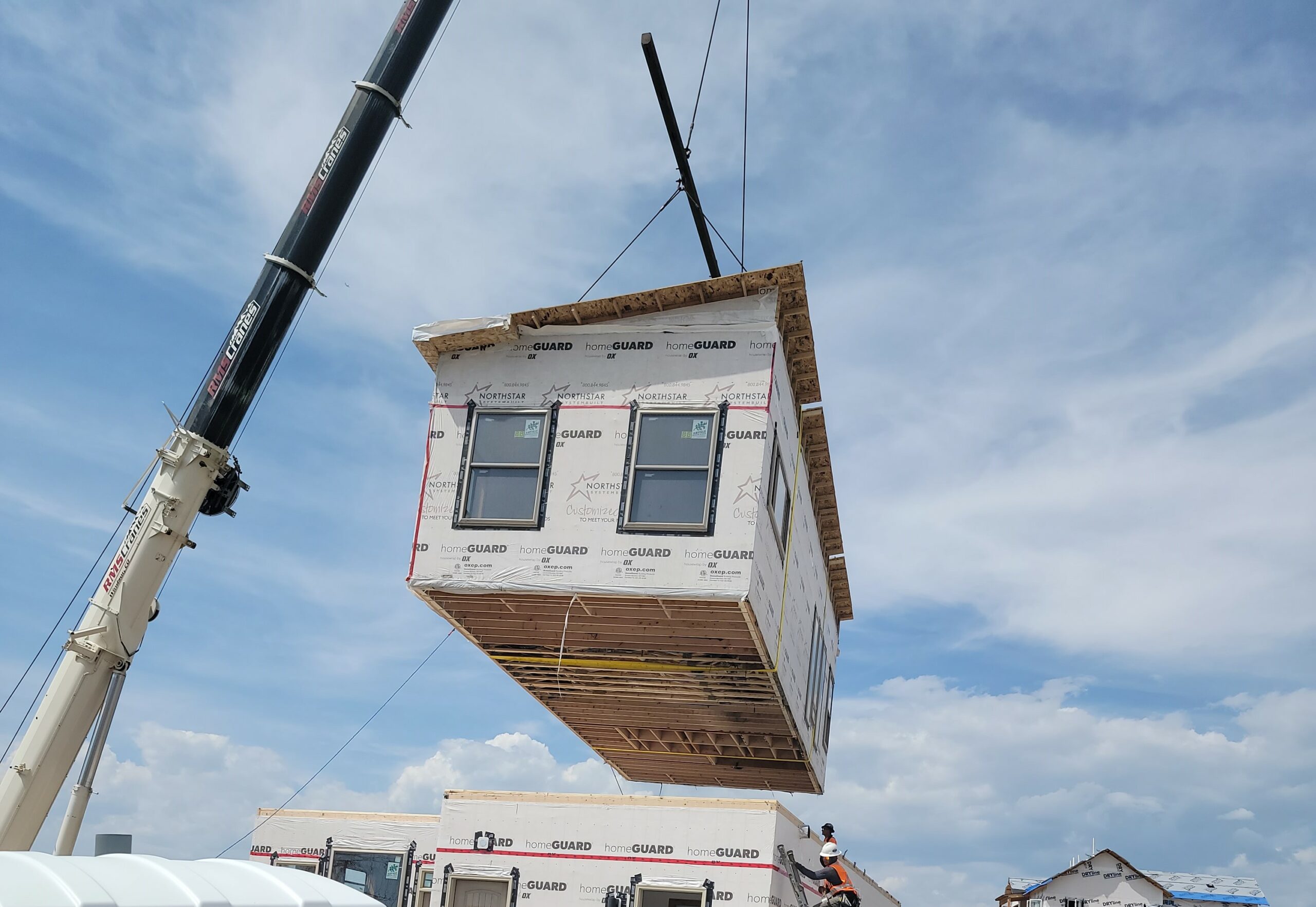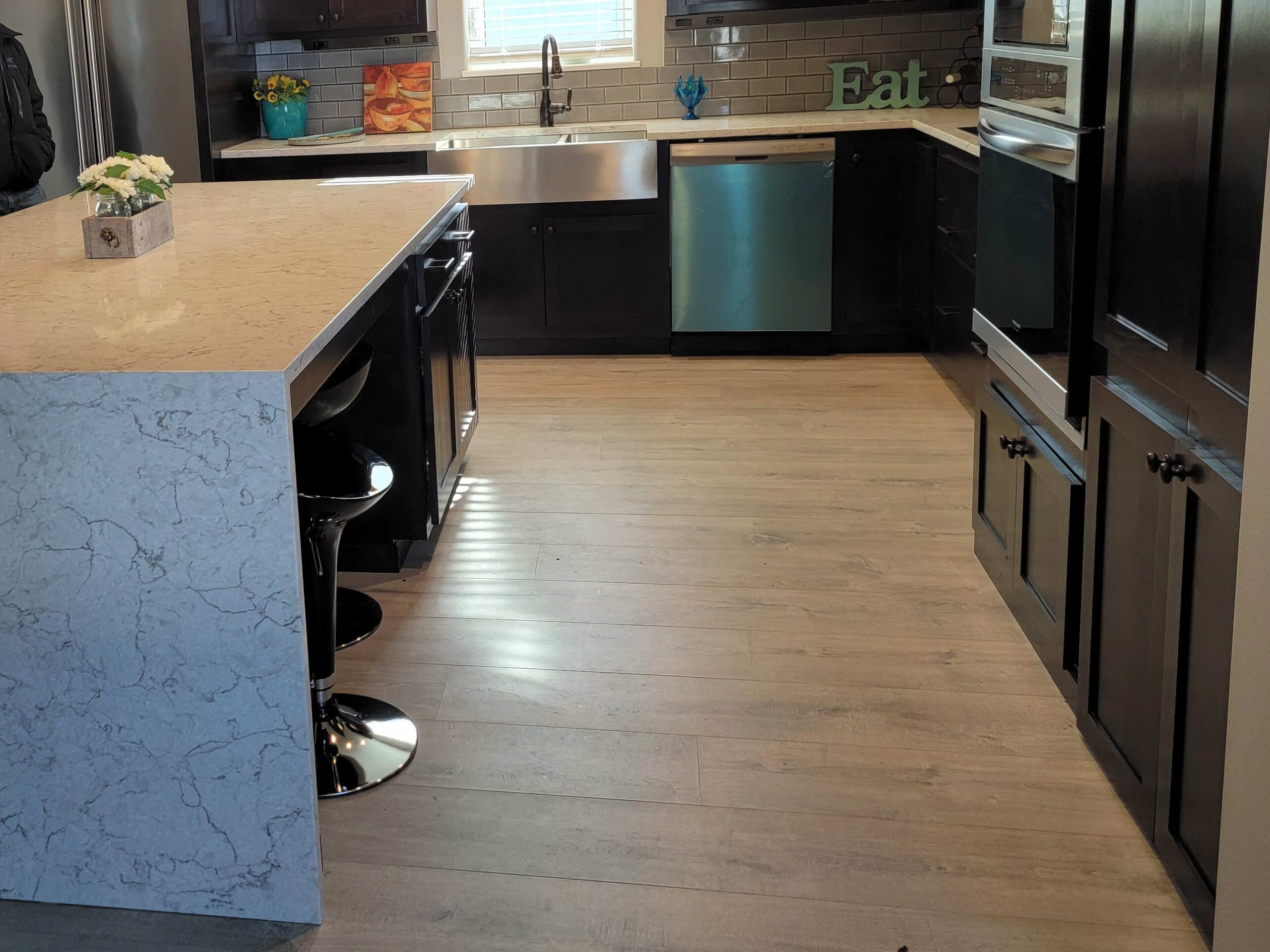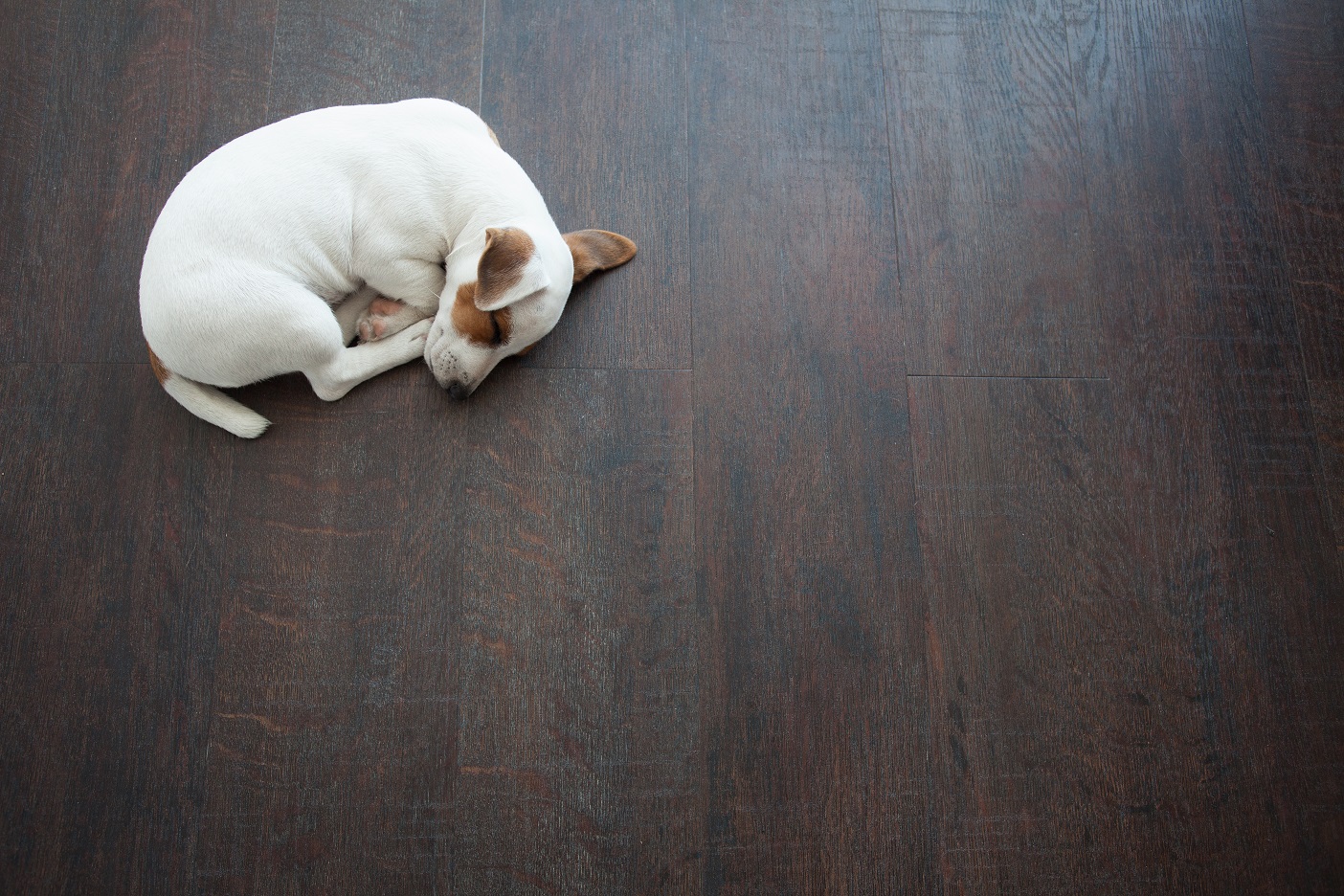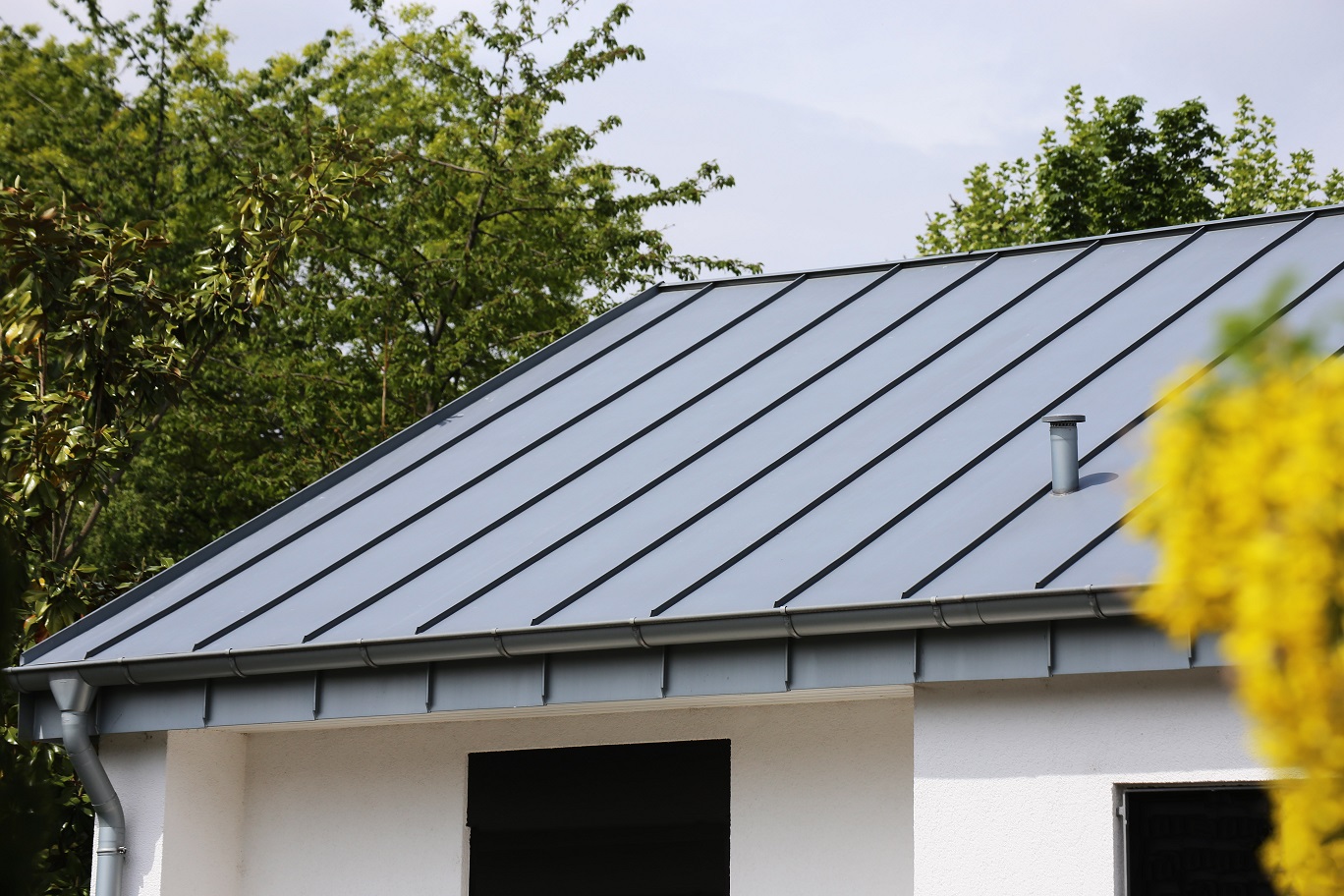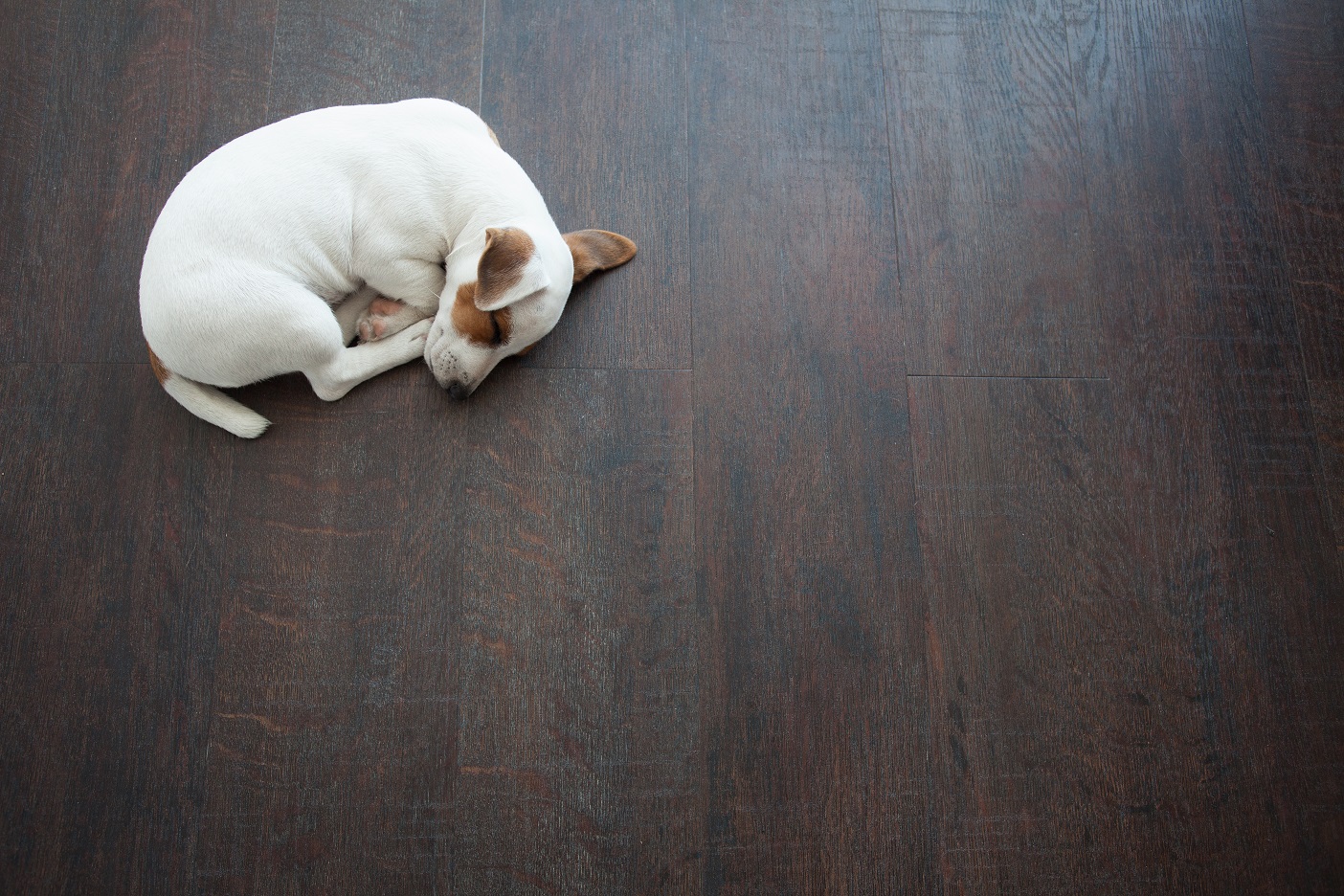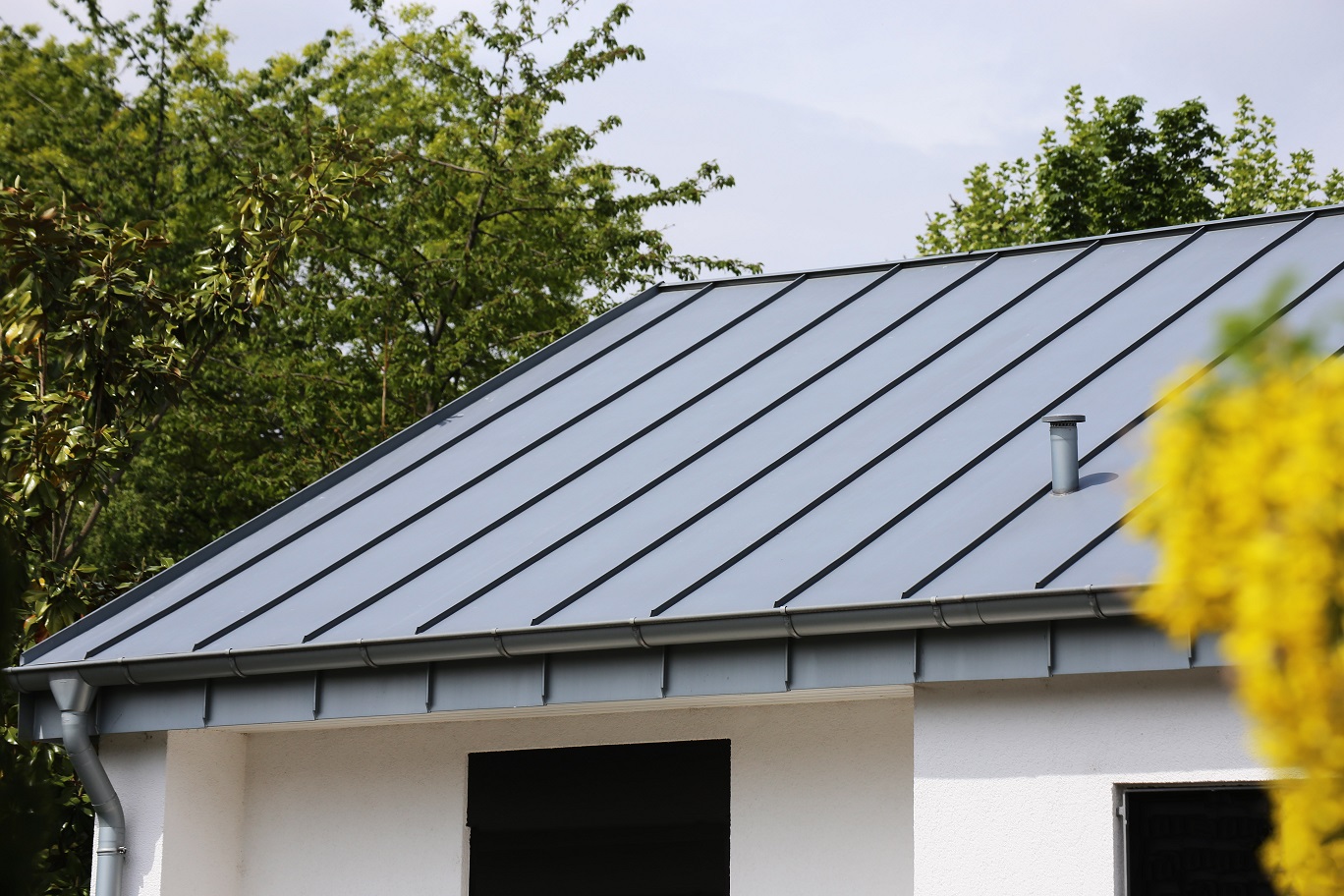 Long Lasting Quality
Our high-indoor-air-quality materials are also high-quality durable materials that will last longer and just look amazing: hardwood floors and stairs on main floor with optional hardwood or engineered wood or cork upstairs, ceramic tile, custom-built cabinetry and built-ins, quartz countertops, solid wood doors, and solid stain-grade wood details such as handrails.
We use mechanically fastened standing seam metal roofing, which lasts much longer than an asphalt roof, resists hail, looks great, accommodates a clamped solar panel attachment which eliminates roof penetrating attachments, eliminating leaks. It's fireproof, and it's not a petroleum product.
We use Hardie board exterior siding, which is also fire resistant and long-lasting. Our integral-color Hardie board comes with their 30 year warranty on the material plus a 15 year warranty on the color, so you don't need to pay for repainting for at least 15 years.
Healthy Indoor Air
Did you know? According to the US EPA, Americans spend 90% of their time indoors, where pollutants are 2 to 5 times more concentrated.
Our homes include:
Full house fresh-air ventilation system which filters outdoor air for pollutants, smoke, and allergens, distributes it throughout your home through ductwork, and continually, 24/7, removes indoor pollutants through coordinated exhaust fans, while recovering energy.
Powerful kitchen exhaust that extracts cooking fumes directly outside at a rate of 600 CFM, much higher than a standard vent hood, while providing active make-up outdoor air to truly move that air.
Reducing sources of indoor pollutants: We use low VOC, low PVC finish materials, greatly reducing the amount of synthetic indoor air pollutants in your home. We will not install carpeting, because it harbors dust and allergens. Flooring in our homes is 100% artisanal hardwood, ceramic tile and engineered natural flooring (not vinyl), and that's built into our price.
Reducing sources of outdoor pollutants: When you need to protect yourself from outdoor pollutants, you can close the windows and get filtered fresh air through the controlled ventilation system. Our homes are sealed better, because they're built at a factory, then on site we add more exterior materials for an even better seal. Because these are all-electric homes, there's no gas vent pipe to bring in wildfire smoke. And, when we do our part to eliminate gas lines from our homes, we're helping to gracefully reduce the impacts of the natural gas industry, which is a big reason for Denver's poor air quality.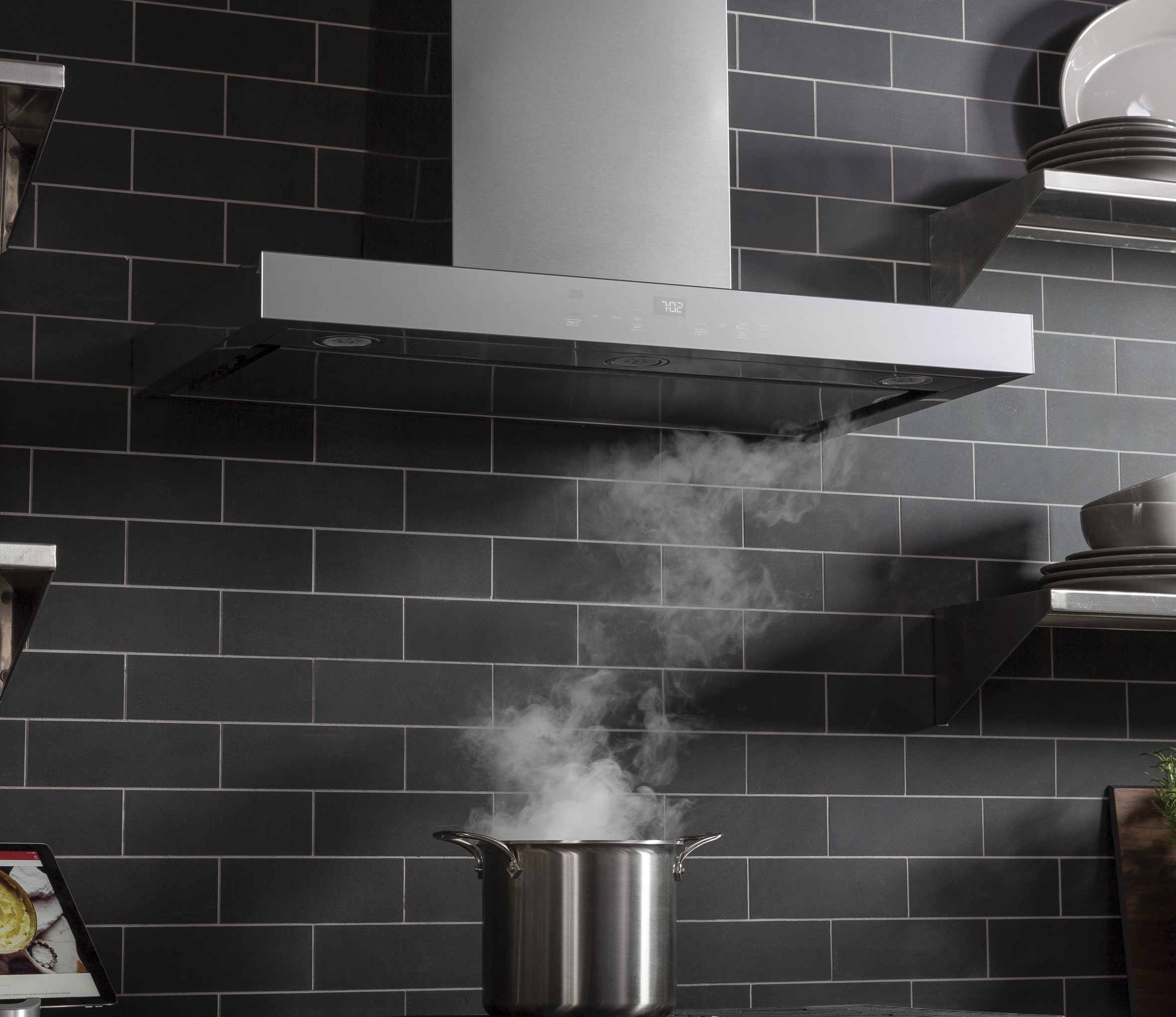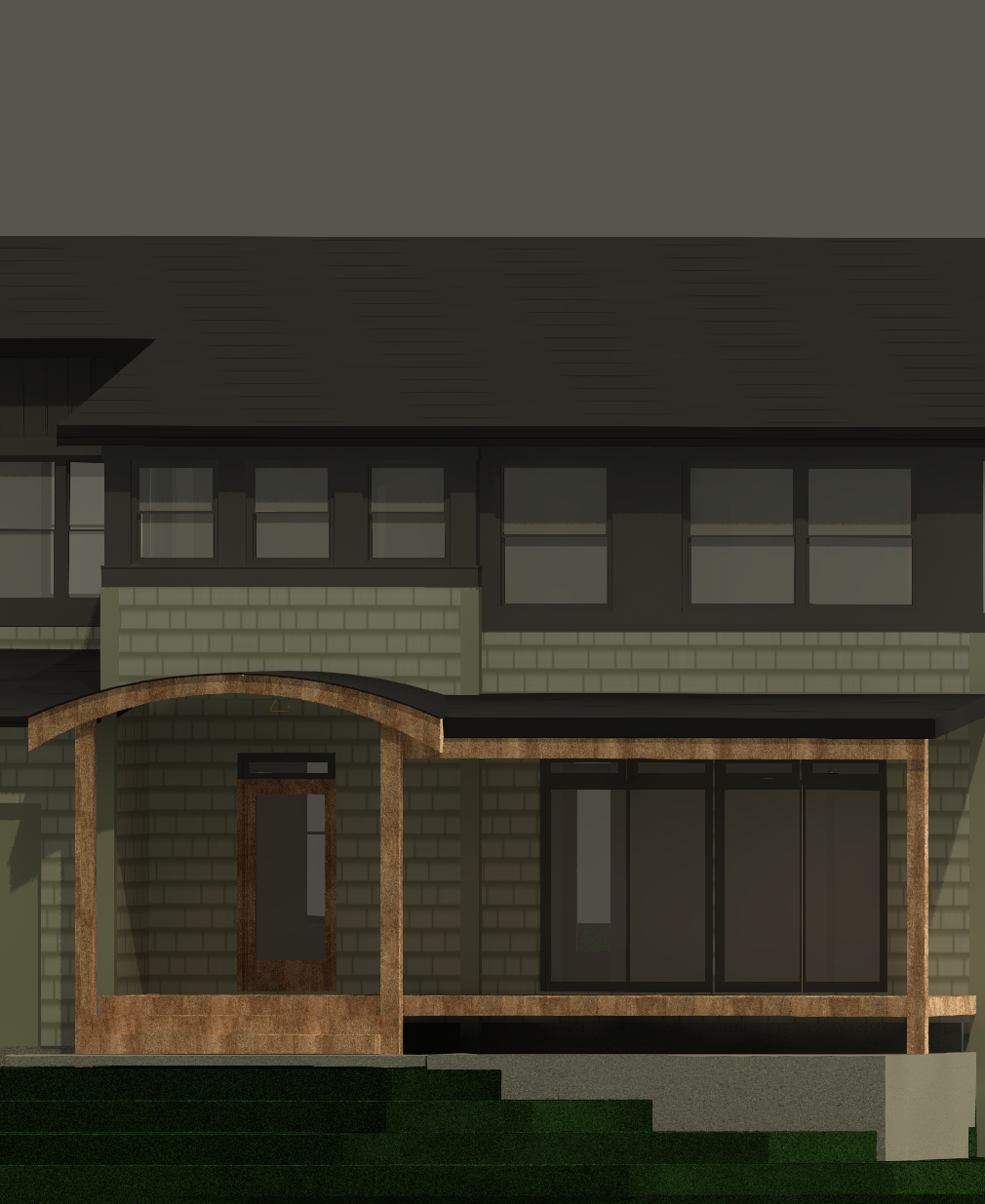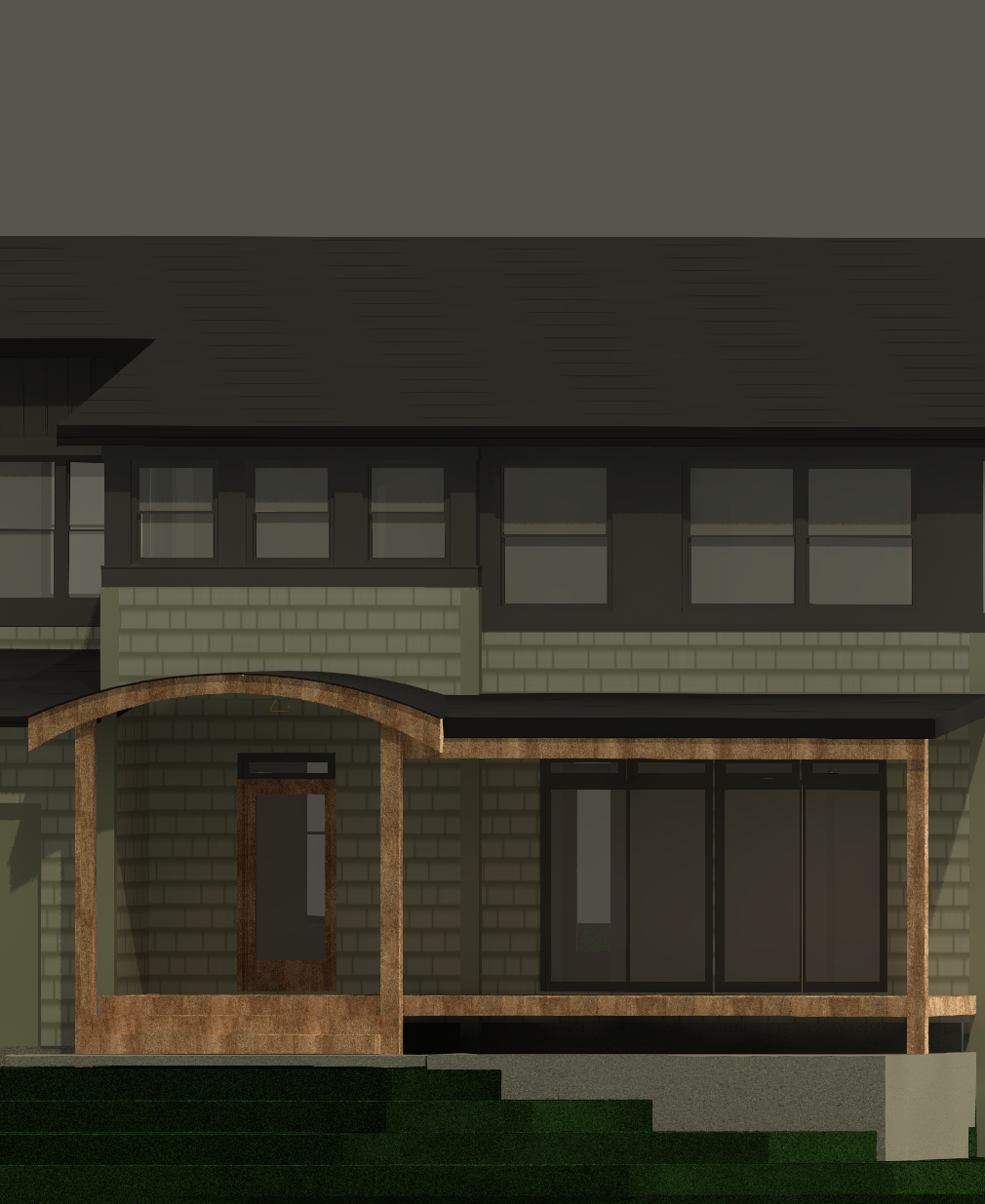 Functional Floor Plans
These homes were designed by a mom with real life in mind.
We love front porches because they bring neighborhoods together. We custom design your front outdoor to work well with your lot.
Our homes have a spacious entryway with lots of beautiful built-in storage, accessible to both the garage and the front door, so you'll never misplace your shoes.
Master bedrooms include an entry vestibule and closet/bath separate from the bedroom, so you can get dressed without disturbing your sleeping partner. Kids' shared bathrooms are split, so one kid can be brushing teeth while another showers.
Your garage is customized for you. We try to include ample extra space for bikes and gear, not just a wall rack. We can also include an extra large garage door for your Colorado mountain car so your roof rack can roll in with you.
True Comfort
We use Mitsubishi heat pumps with a variable speed compressor and a multi-speed ECM motor, and hyper heat that is capable of heating efficiently with all-electric in Colorado's cold climate. Our homes are split into at least two zones, which eliminates heat stacking in your house. All homes include a whole house steam humidifier.
Our homes are meticulously sealed and insulated to a very high level, approaching Passive House standards. This means less drafts and uneven temperatures, and less outdoor air pollutants spilling in through cracks and poorly sealed windows.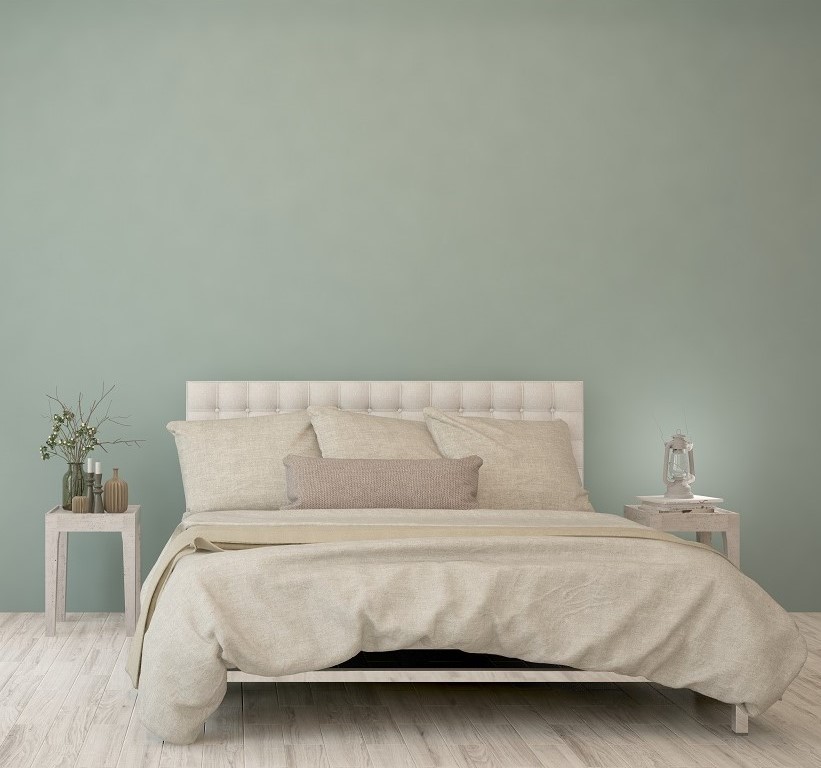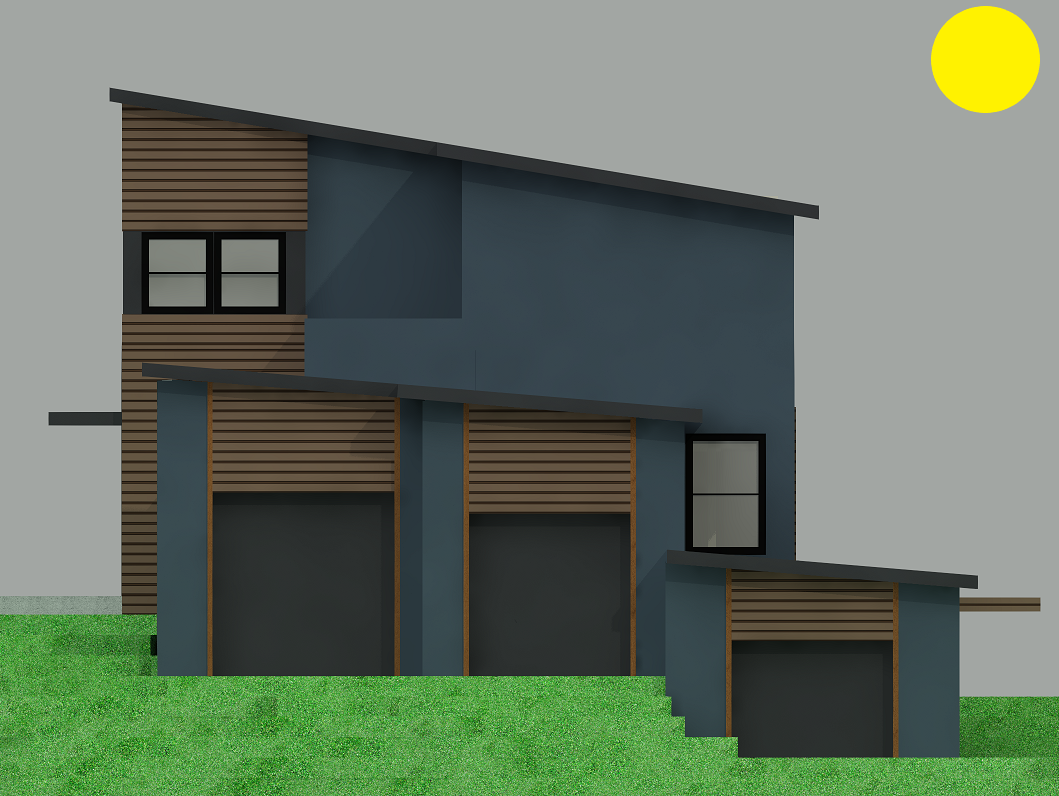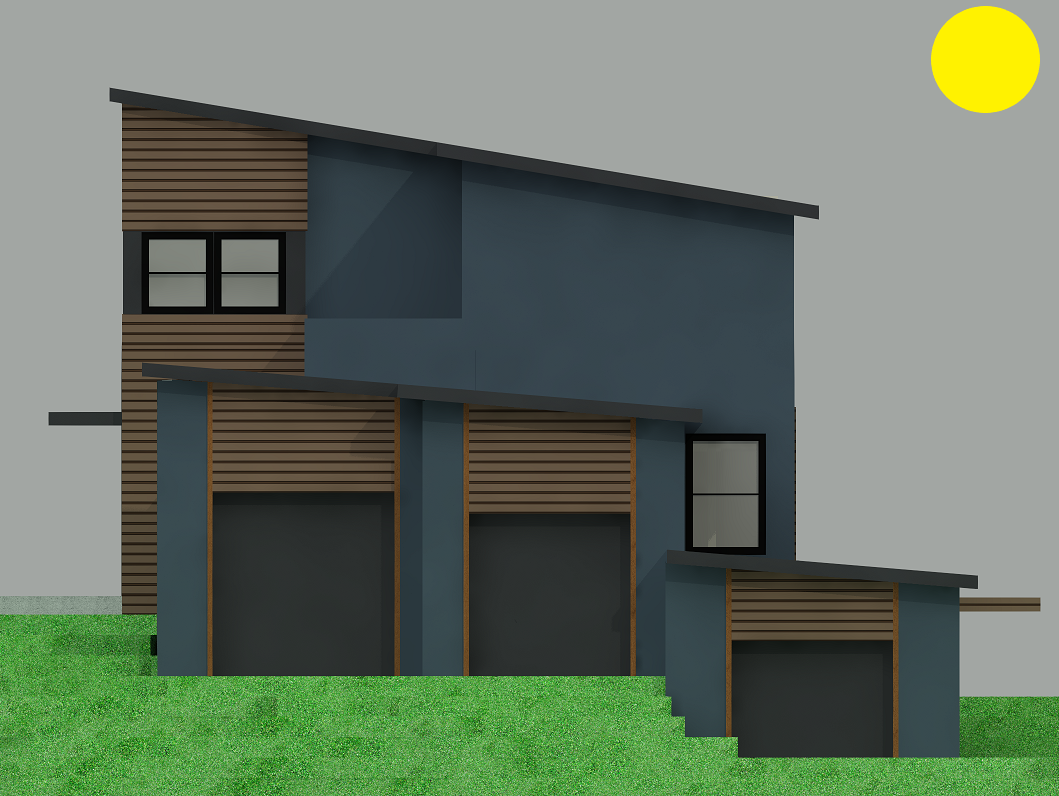 On a solar mission
All HLH homes are designed to maximize rooftop solar power, with single slope roofs facing south as directly as possible. Our standing-seam metal roofs are perfect for clamping solar panels without damaging roof penetrations. We will gladly coordinate solar install at no extra charge, facilitating a great deal with our local installer, and throwing in an extra financial incentive of our own to make sure solar you can do solar right now.
Our homes are super energy efficient, so your solar goes farther. All our homes are Energy Star NextGen certified.